On
It all started in 1984 when the brothers Kosta and Tom Kartsotis invested approximately US $ 200 thousand to found the company
Overseas Products International
, aiming at the possibility of selling watches with a fashion look at affordable prices. The first batch of 1,500 watches, made in Hong Kong, was sold to boutiques and department stores in the city of Dallas, Texas. Shortly afterwards, the brothers hired their friend Lynne Stafford (who later became Tom's wife) to take care of the design of the watches, thus creating a retro look with a creative touch of nostalgia that would be the main reason for the existence and success of brand. Watches with visuals inspired by the 30s, 40s and 50s, sold in department stores and specialized retailers, quickly attracted teenagers and a young audience, between 20 and 30 years old. From this moment on, the company would start to give its name to the watchmaking world, thanks to the innovative and timeless design of its watch lines. FOSSIL was the first American brand that added value and style to the watch category, transforming them into accessory fashions, far beyond the function of just showing the time. In the rest of the 1980s, the company, which changed its name to FOSSIL (name chosen because it was the affectionate nickname that the brothers gave to their grandfather, but it could very well be due to the retro look of their watches), grew rapidly, investing in the diversification of models, new technologies, design and advertising in influential fashion and lifestyle magazines that were opinion makers.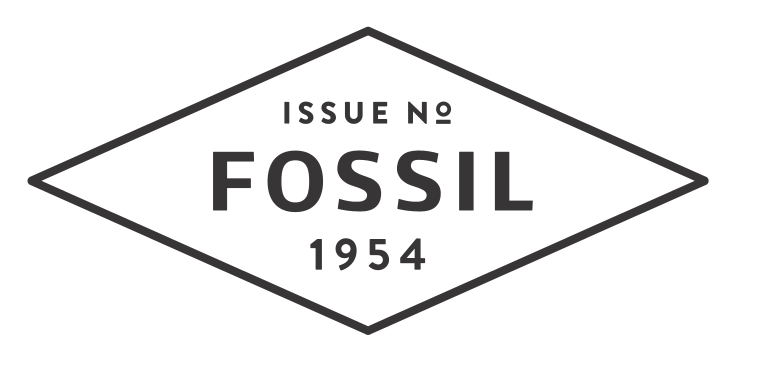 In 1989, with sales of US $ 20 million, the company started selling its watches in elaborate cans and wooden packaging, giving an even more nostalgic and appealing look to its products. To further stimulate consumer demand, a marketing campaign was launched featuring FOSSIL watches on the wrists of models involved in adventure activities in exotic settings, an approach that evoked comparisons with the popular mystique surrounding the film 'Indiana Jones'. In 1990, the company introduced a line of leather goods to the market, such as wallets, belts and bags under the FOSSIL brand, thus initiating a diversification in its product line. In addition, the line of jewelry also introduced at this time would be hugely successful. International interest in FOSSIL products grew rapidly and the company began a timid expansion into markets outside the United States, initially installing a subsidiary in Germany, to develop business on the European continent. Shortly thereafter, in 1991, the company opened its first Store-In-Store (a kind of store inside another store) at the popular Macy's department store in New York, which meant a significant increase in its sales. Even at the beginning of this decade, after going public on the Stock Exchange, in June 1993, the company started a strong international expansion with its production reaching 4 million watches annually. At this time, an agreement signed with Seiko, allowed the Japanese company to distribute FOSSIL watches in Japan, which would generate a considerable increase in its sales in a market that would become extremely important for the company.

From 1995, the year in which FOSSIL launched its first collection of sunglasses, the company started diversifying its sales channels, opening its first stores in the Outlet concept; opening its own stores exclusively dedicated to the sale of accessories in 1996; and establishing your e-commerce, initially for the American territory, and later for other countries like Germany, United Kingdom, Singapore and Australia. Since 1997, due to the quality and timeless design of its watches, FOSSIL began to be sought after by renowned brands, such as the Italian Diesel and Emporio Armani, to produce watches under license. Thus, in the following years, FOSSIL would become one of the largest watch manufacturers in the world, always investing in new trends and technologies, such as, for example, TWIST, analog movement with quartz and automatic energy source. In 2000, with the arrival of the new millennium, FOSSIL decided to enter new market segments with the launch of a complete line of clothing aimed at a young target audience that included shirts, pants, t-shirts, jeans, skirts, jackets, coats and dresses. In 2006, the company secured the manufacturing license for the watches of the sports brand Adidas. In the years that followed, FOSSIL entered new product categories by launching a complete line of
'Cold Weather'
accessories (hats, gloves and scarves) in 2007; and shortly thereafter, in 2008, his first line of men's shoes, which included sports, casual, classic shoes and boots. Despite becoming a casual fashion brand, FOSSIL's specialty continues to be watches, marketed at prices between US $ 65 and US $ 400. With various styles, each with more or less functions, there are watches for men and women. women: from the most sporty and casual, to the most classic and daring, as well as pocket watches. The brand is still known for its vast line of collectible watches and themed with characters from films such as Superman, Batman, Snoopy, Pokemon, Star Wars, among many others. In 2013 the company launched a more sophisticated line of watches, dubbed
FOSSIL SWISS
, whose production is made in Switzerland.

The brand in the world
FOSSIL's wide range of products, ranging from traditional watches and glasses to handbags, leather goods, footwear, clothing and accessories, are sold in 100 countries around the world through more than 4,000 points of sale as specialized stores and department stores, 60 independent distributors, cruise ships and a network of 400 brand-owned stores. The company still sells its products through the internet and catalog (which has an annual distribution of more than 7.5 million copies).
Did you know?
? Although FOSSIL is the most important brand, the company owns watch brands such as Michele, Relic, Skagen and Zodiac. The company also sells products, especially watches, under license from other renowned brands such as Diesel, Adidas, Burberry, Armani Exchange, DKNY, Mark Jacobs, Michael Kors, among others. The sale of licensed watches is responsible for approximately 33% of the company's revenue.

Fossil Coupon Codes
If you're looking for coupons at Fossil, then you'll be here at the right place! We update daily our coupons and offers, we search for you the best Fossil Coupon Codes and offers, you will always save on your online purchases with our coupons. At the list on top of this page, you'll see all the offers, coupons, promo codes and discounts currently available at Fossil. Easy, right? This listing was last updated on 27 November 2023.
We want to help our loyal visitors as much as possible to get a discount at as many online webshops. Therefore, beside Fossil, we have over 20'000 other online webshops located in the USA on our website with a wide range of Coupon Codes, offers and promotional codes. For example, check out our Lacoste Promo Code or Knock Knock Promo Code, they have daily new offers and coupon codes.
There are mostly several Coupon Codes available. Just think of a free shipping code or a code that gives a certain percentage of your order. Some Coupon Codes are for a specific product, other promotional codes give you a discount on the entire assortment. It is a surprise every day, which promotional codes offer the webshops, but in any case, they will find them here on our website!
How can I use a Fossil Coupon Codes?
A promotional code or promotional code from Fossil can be used in two ways. The first way is by simply clicking on "SHOW CODE", copying the code, and then pasting it into the shopping cart of this webshop. The other way is by clicking on 'VIEW OFFER', after which you will be redirected directly to the webshop and the discount will be applied automatically.
Most Promo Codes can be used, but we also offer promotional codes and offers from stores and brands abroad like Europe, China or Brazil. This way you will find the best bargains worldwide!
To make at for our visitors as easy as possible, we've selected the best and most advantageous Coupon Codes from Fossil and put them on top of the listing. This way you save time, because you see all Coupon Codes in a handy overview. So, if you're going to buy with Fossil Coupon Codes, we recommend using a coupon code or offer from our website, so you can enjoy more online shopping! And the most beautiful of everything? All of our Coupon Codes can be used for FREE!
You do not have to register for coupon codes Fossil Coupons, but we recommend you sign up for our newsletter. That way, you get the latest Coupon Codes, offers and special bargains in your mailbox. We select the webshops with the most beneficial actions for the newsletter, so you can also get acquainted with new online stores.
What is a Fossil Coupon Code?
A coupon code from Fossil is an alphanumeric code that you use to get the discount on your order. These Coupon Codes are also called coupon code, promotional code, discount code, promo code or coupon. Webshops from around the world use these types of codes to give discount to their customers on certain products or orders.
FAQ
What are the promo codes and offers currently valid for Fossil at November 2023?
Right now, there are 2 Coupons codes and 34 offers available for Fossil:
Affiliate Only Jusqu'à 70% de rabais + 15%
Fossil® Sunny Savings Extra 40% OFF All Sale Styles
12 Days Of Jewelry | A stylish surprise every day
Fossil CA Fossil Hello 2023 Up To 50% OFF Sale Items
How often does Fossil release new coupon codes?
Lately, we've discovered a new discount code from Fossil every 30 days. Over the last 90 days we've found 2 new coupons from Fossil.
How much can I save by using a coupon at Fossil?
With the best discount we've found, you can get up to a $100 OFF. Fossil shoppers have saved already 71 times at checkout.
How do I get the latest deals from Fossil?
Subscribe to 1001promocodes.com's email alerts for Fossil and we will email you notification every time we discover a new discount code. If you can't find a working coupon code right now, subscribe and receive the latest deals as soon as we discover them.
Are there any active Fossil coupon codes at this time?
Yes! Right now on 1001promocodes.com, you can find 2 coupon codes for Fossil that are verified and working. Fossil coupons and promo codes found on 1001promocodes.com have been used 71 times, equalling lots of savings!
The entire content of this site is copyrighted (all rights reserved © 2023).