About Holzkern Coupon Codes
Holzkern focus on watches made with natural materials, they have a huge range of stunning stone & wooden watches and bracelets on their website, these are available in designs for both men and women.
Holzkern as a company are relatively young and based in Austria, they work in partnership with experienced manufacturers to bring you unique looking timepieces with their use of raw and natural materials.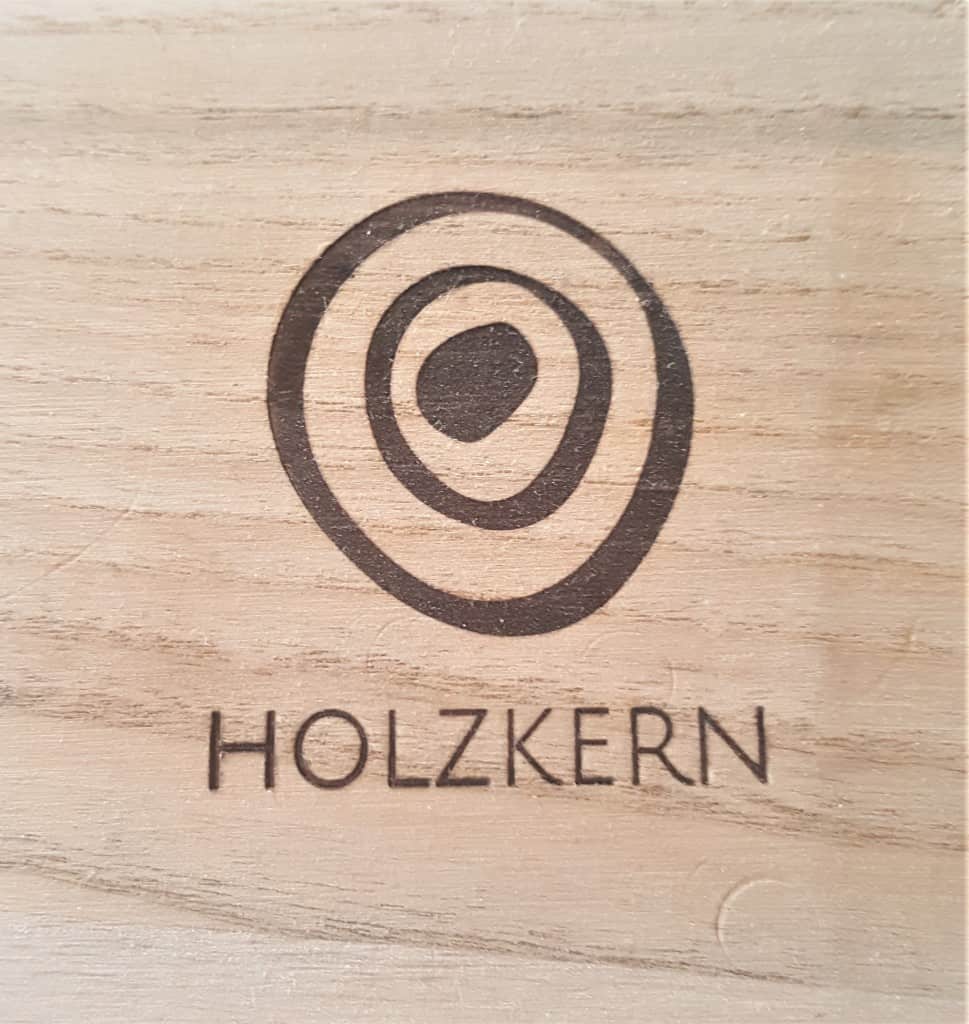 Holzkern have chosen the annual growth rings of a tree as their logo. This represents their appreciation for quality time and the splendour of nature.
One aspect I really liked about Holzkern is the fact that for every watch sold, €1 goes towards various projects to help people and the environment:
'We donate €1 for every watch sold in reforestation projects in Nicaragua or toward the employment of people with reduced physical, sensory, or mental capabilities. This arrangement establishes our stable contribution to projects in climate protection, social support, and environment sustainability.'
Dial Design
The dial features silver coloured hour and minute hands that sit on top of a genuine grey marble dial. As the dial is made of a natural material, everyone is unique. I haven't seen many men's watches make use of marble dials so I find this to be a really interesting part of the watch design.
The seconds are located on a separate sub-dial just next to an exhibition window that lets you peer into the inner workings of the timepiece where you can view the balance wheel working away.
Watch Case & Sizing
The casing is made of stainless steel in a gunmetal finish with a walnut bezel that works very well together. The size of the casing is 42mm in diameter, this is a popular size for men's watches right now and something I'm personally very happy with as it's ideal for me.
This type of casing features an exhibition-style caseback, this allows you to see right through to the automatic movement that's powering the watch. I love this feature on watches. You can also see the words 'naturally unique' engraved onto the metal.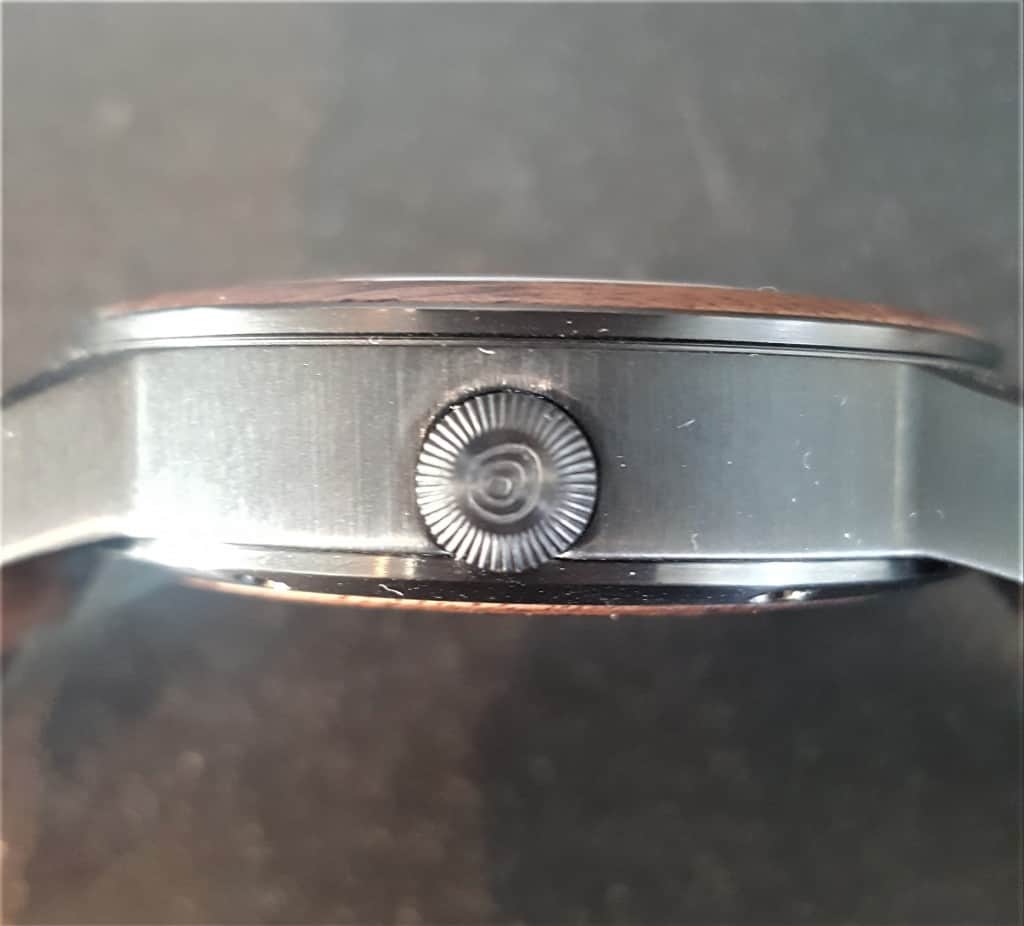 I think the design of the crown is pretty neat, it features the Holzkern logo and just feels really nice to operate, this is something I've come to appreciate a lot in quality watches over the years.
Watch Movement
Powering this wooden watch is a self-winding automatic movement. This specific movement was produced by Citizen, one of the worlds largest producers of quality automatic movements.
This automatic movement typically has a 30-40 hour power reserve when fully wound. Automatic watches don't require a battery and are generally seen as a higher quality option than a quartz.
When you first wear an automatic watch you'll need to fully wind it, this requires you to pull the crown out and turn it clockwise up to 40 times, or until you feel a slight resistance. After this, the movement of your wrist throughout the day will keep the watch ticking along.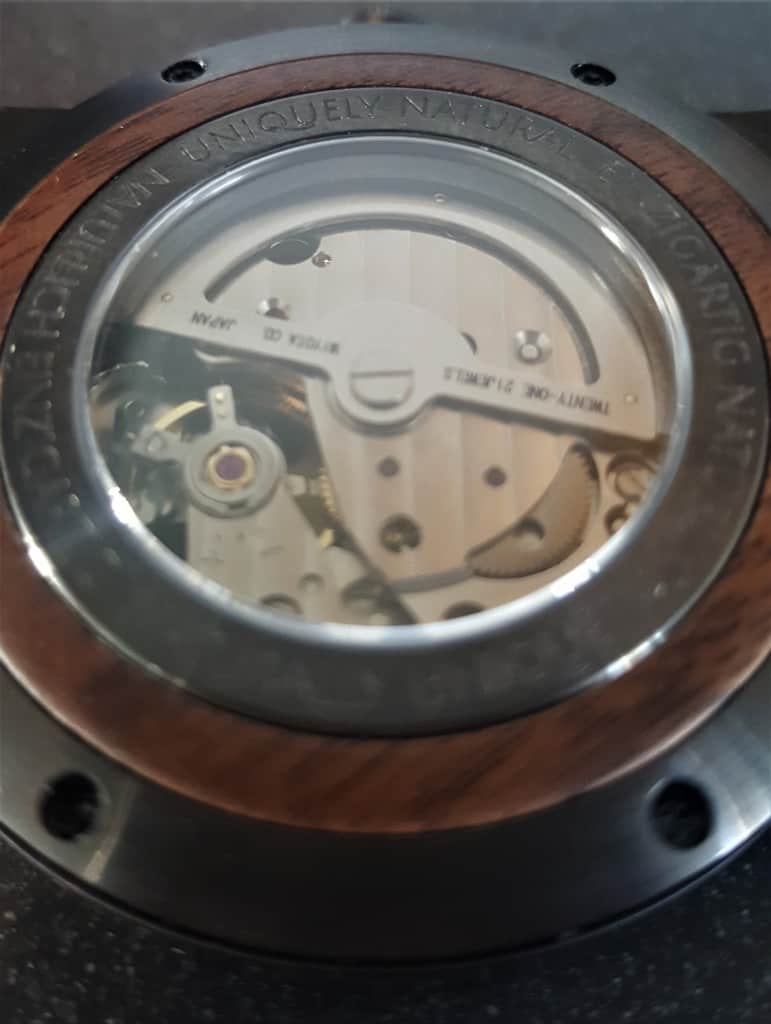 The movement has kept great time over the period of my review. If you take the watch off and leave it for a day or two you may find it will run out of charge, this is completely normal for automatic watches. You'll simply need to do the initial wind up again and set your watch before going again.
Personally, I tend to keep the automatic watches I use most often within a watch winder when I'm not wearing them. A watch winder periodically rotates the watch for you, keeping the movement fully wound. Here you can see the Holzkern Chicago automatic kept within a wooden Barrington watches single automatic winder overnight.
" alt="" aria-hidden="true" />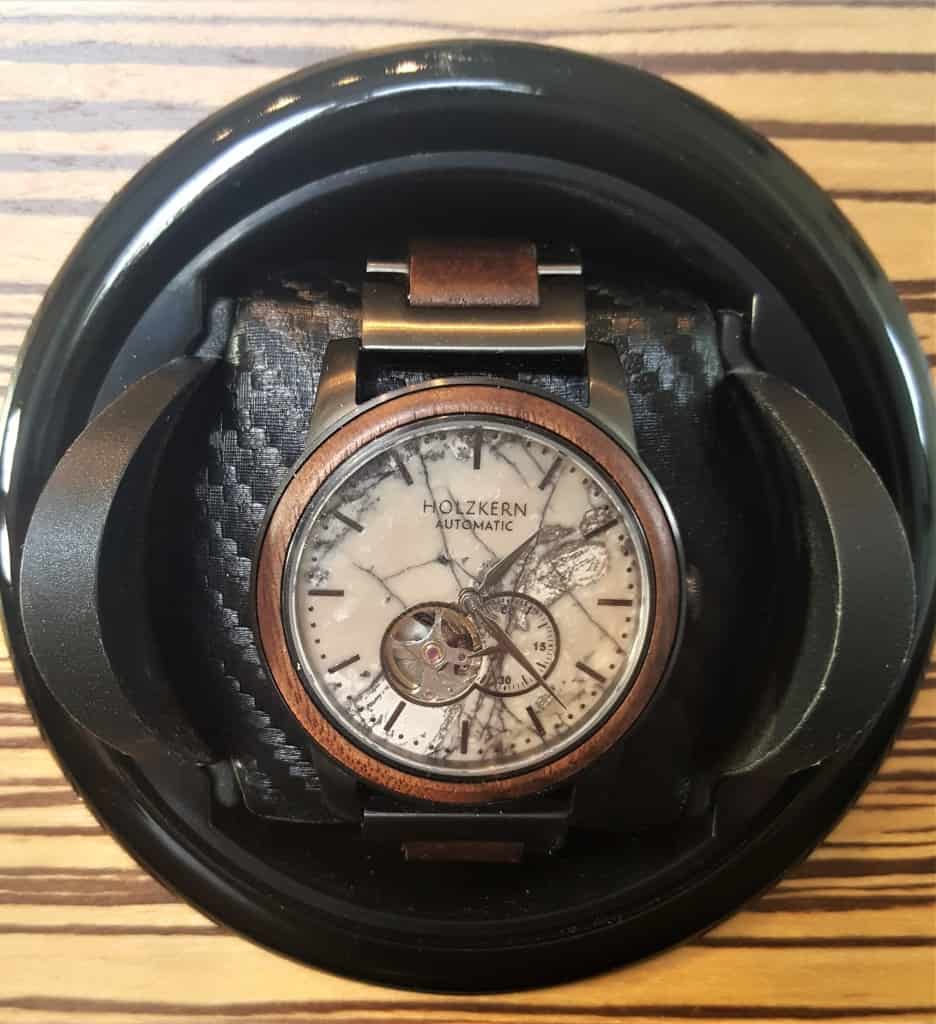 Watch Crystal
Protecting the front and rear of the watch is a mineral crystal style glass. Mineral crystal is specially hardened to offer a better level of scratch and shatter resistance. This is typically found in watches in this price range and exactly what I expected to see so I'm pleased with that.
" alt="" aria-hidden="true" />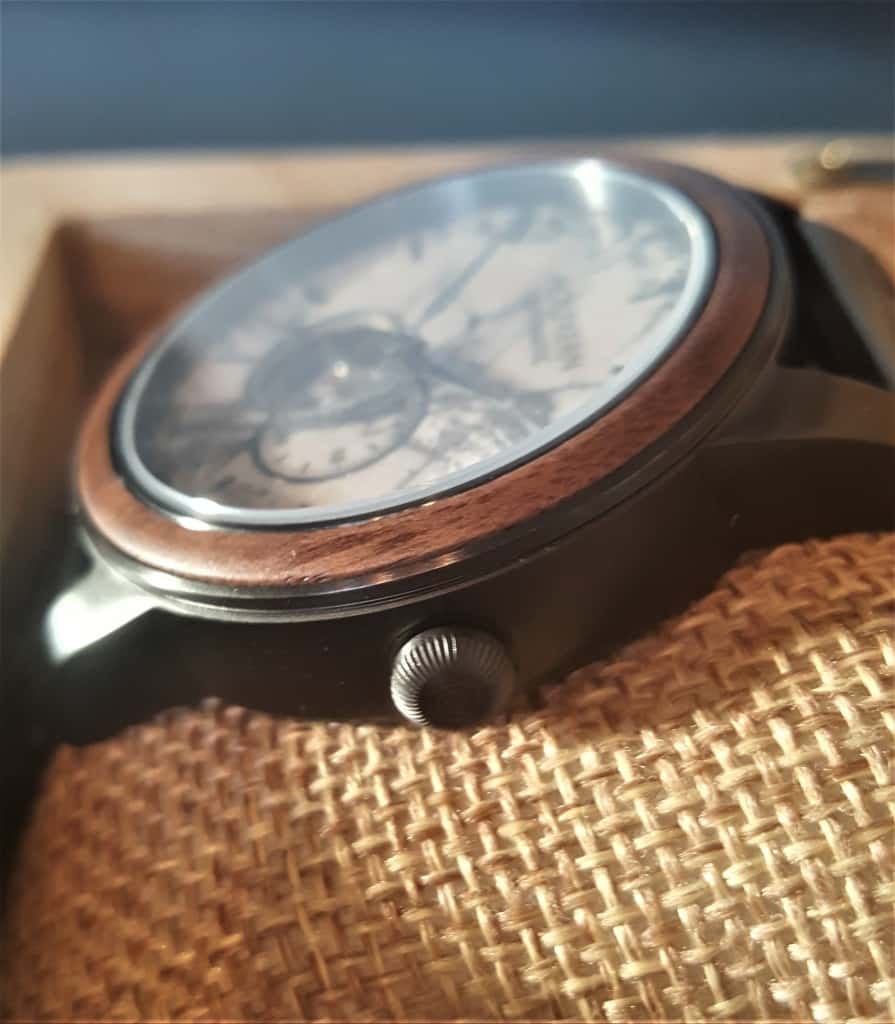 Strap & Clasp
The strap is made with a combination of natural walnut and brushed stainless steel in a gunmetal finish. The width of this strap is 22mm which is ideal considering the size of the casing. It fastens with a push release clasp, this is actually one of my preferred claps as I find them to be easier to operate for most people.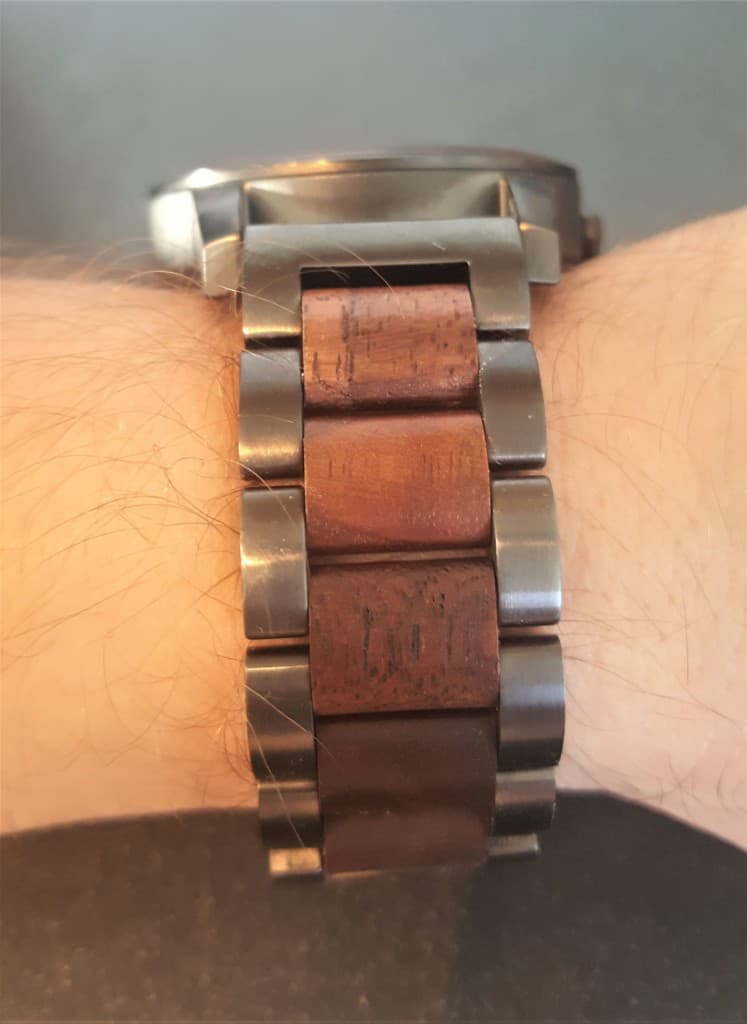 Over the last two weeks, I've been wearing this watch and have found the strap to be extra comfortable. Something I'm always a bit wary of is hairs getting caught within the links of a watch strap, for anyone else who has ever suffered from this, you'll be pleased to hear I had zero issues, perhaps this is due to the addition of wooden links.
The strap size is easy to adjust, you'll receive extra links with the watch and the tools required to make the alteration. Personally, I had to take out one link, this was a 2-minute job and was honestly no trouble at all. Holzkern even provides an excellent slideshow on how to do this on their FAQ page.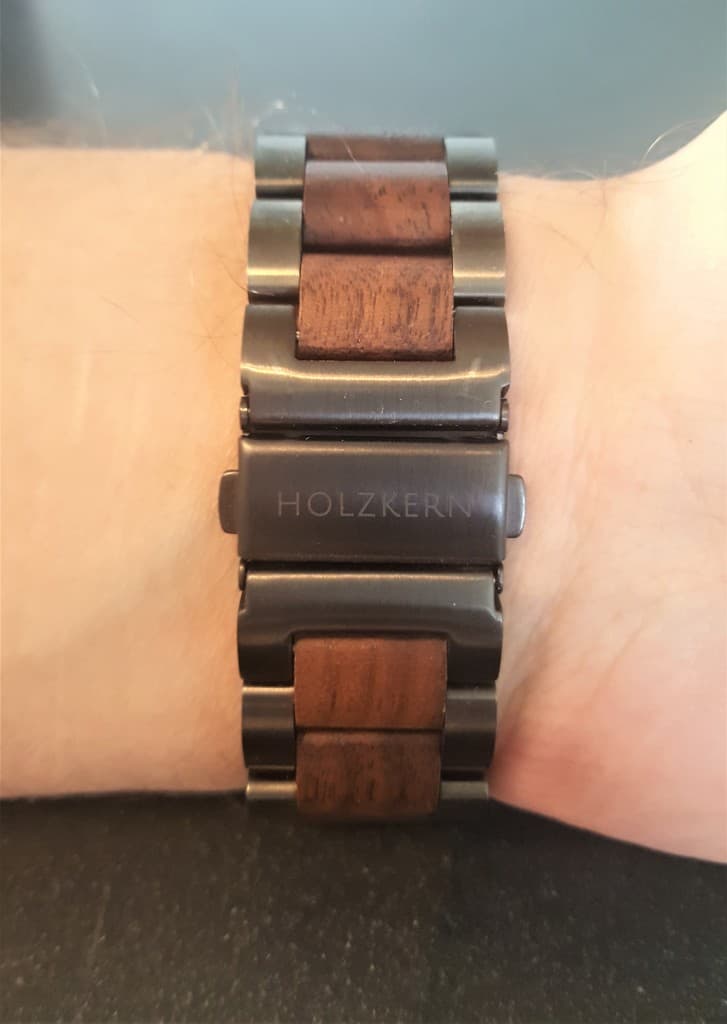 Water Resistance Rating
Ideally, you don't want your wooden watch getting wet. Here is Holzkern's own recommendation:
'A few splashes of water from washing the dishes shouldn't be a problem for our watches. However, we advise that you prevent your wood watch from coming into contact with water in general. Please take off your watch when you take a shower, a bath, wash your hands, go swimming, wash your car, wash your dog, run through a sprinkler, engage in a water-balloon fight, etc.'
Packaging
I don't often talk about the packaging when it comes to a watch review but I was actually so pleased with what they've done in this instance that I wanted to show it off.
The watch arrived in this beautiful little wooden box that flips open to reveal the timepiece. The box features the Holzkern logo as well as the words 'naturally unique' again.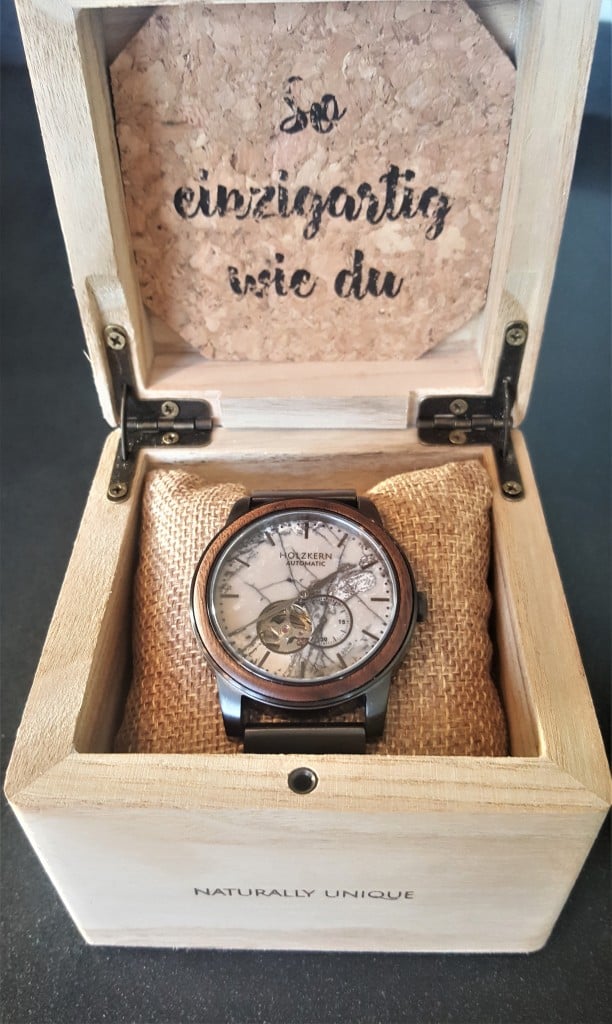 In the box you'll find two wooden notes, one is a 24-month guarantee card, the other is a certificate of authentication. I thought this was a really nice added extra detail.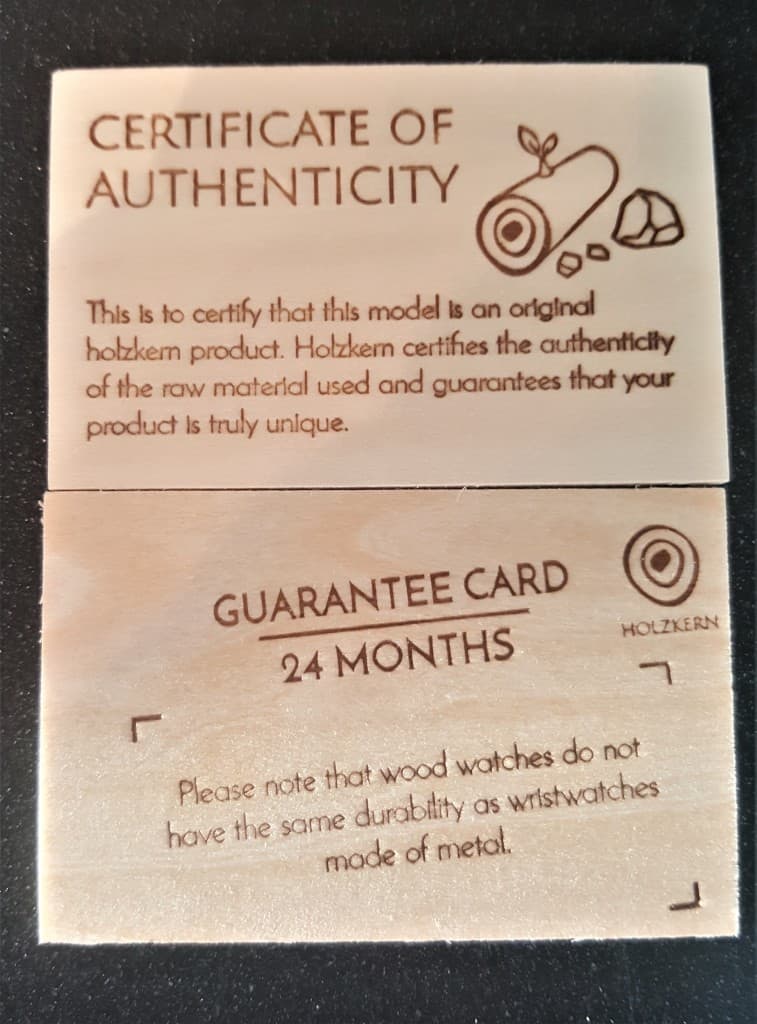 There's also four extra links included with the tools for altering the strap included. I actually made use of these as I needed to remove one link for the watch to fit me.
Specifications
Below I've listed some of the important specifications for the Holzern Chicago watch (for those of you who are skim reading).
42mm diameter
Automatic self-winding movement by Citizen
Natural marble dial
Mineral crystal glass
Walnut Accents
Exhibition caseback and keyhole on the dial
Easy to adjust strap
Overall Thoughts
It's obvious to me that great care and attention has gone into the design of this watch. I love this use of natural materials and the way the marble dial ensures you're going to have a unique looking watch.
Just wearing this timepiece over the last two weeks has been a great experience, I love the feel of the wooden strap on my wrist and the overall weight of the watch is ideal for me.
It's the little things in the design of the timepiece that I've really come to admire, like the keyhole on the dial that lets you see through to the inner workings of the watch, and the feel of the crown when I wind up the automatic movement.
Overall I'd highly recommend going for this watch or any other from Holzkern, I feel like value for money is definitely there and you certainly don't see many watches like these, so if you're after something very unique then Holzkern is the way to go.
Take a look at the full range of wood watches and don't forget to use the corn 'TheWatchBlog5' at checkout for 5% off.
More From Holzken
Holzkern have an incredible selection of watches available that make use of a whole range of different types of wood, I couldn't end the review without featuring a few of these.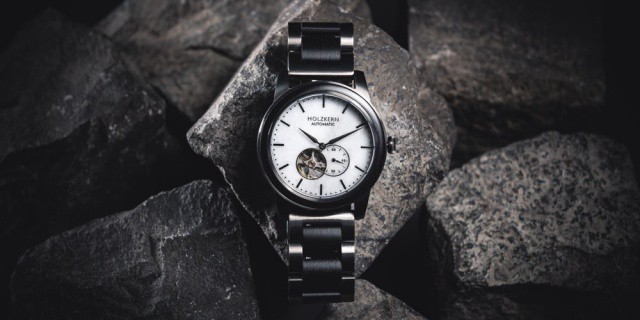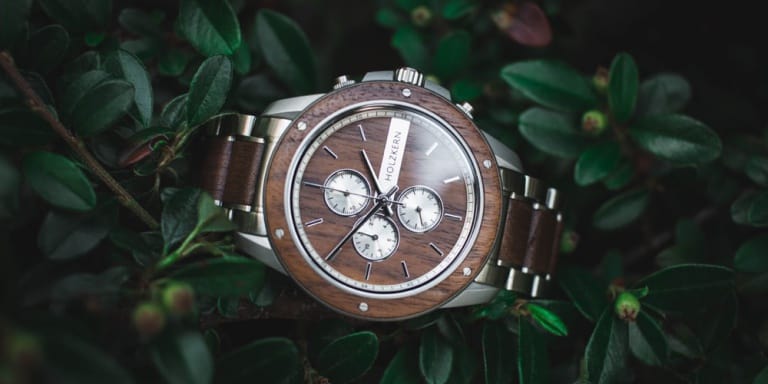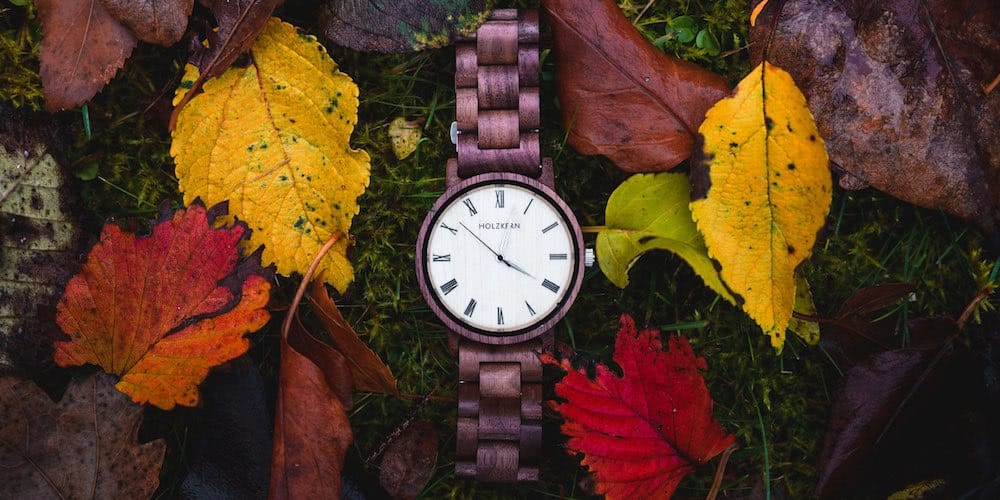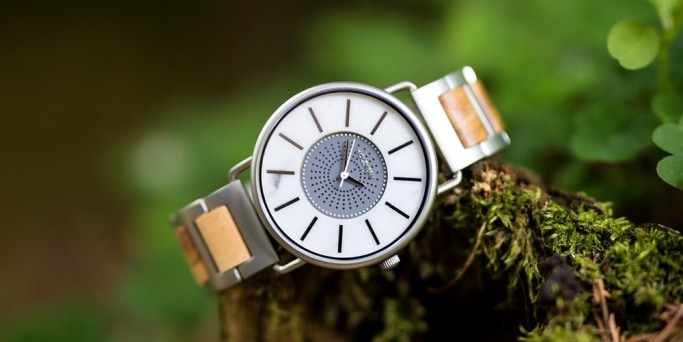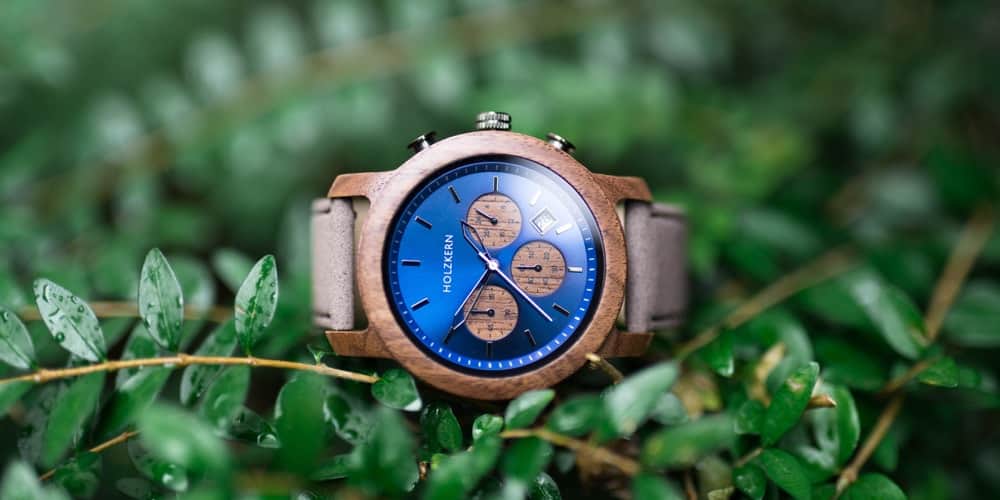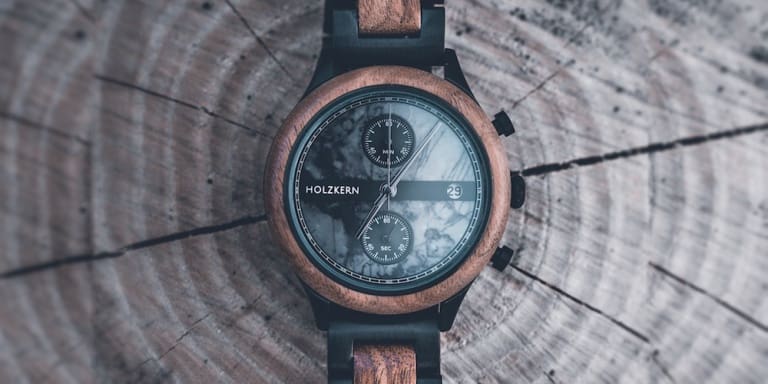 Holzkern Coupon Codes
If you're looking for Coupon Codes or coupons at Holzkern, then you'll be here at the right place! We update daily our coupons and offers, we search for you the best Holzkern Coupon Codes and offers, you will always save on your online purchases with our coupons. At the list on top of this page, you'll see all the offers, coupons, coupon codes and discounts currently available at Holzkern. Easy, right? This listing was last updated on 12 August 2022.
We want to help our loyal visitors as much as possible to get a discount at as many online webshops. Therefore, beside Holzkern, we have over 20'000 other online webshops on our website with a wide range of Coupon Codes, offers and promotional codes.
There are normally several Coupon Codes available. Just think of a free shipping code or a code that gives a certain percentage of your order. Some Coupon Codes are for a specific product, other promotional codes give you a discount on the entire assortment. It is a surprise every day, which promotional codes offer the webshops, but in any case, they will find them here on our website!
Most Coupon Codes can be used, but we also offer promotional codes and offers from stores and brands abroad like Europe, China or Brazil. This way you will find the best bargains worldwide!
To make at for our visitors as easy as possible, we've selected the best and most advantageous Coupon Codes of Holzkern and put them on top of the listing. This way you save time, because you see all Coupon Codes in a handy overview. So, if you're going to buy at Holzkern, we recommend using a coupon code or offer from our website, so you can enjoy more online shopping! And the most beautiful of everything? All of our Coupon Codes can be used for FREE!
You do not have to register for coupon codes Holzkern Coupon Codes, but we recommend you sign up for our newsletter. That way, you get the latest Coupon Codes, offers and special bargains in your mailbox. We select the webshops with the most beneficial actions for the newsletter, so you can also get acquainted with new online stores.
What is a Holzkern coupon code?
A coupon code from Holzkern is a alphanumeric code that you used to get the discount on your order. These Coupon Codes are also called coupon code, promotional code, discount code, promo code or coupon. Webshops from around the world use these types of codes to give discount to their customers on certain products or orders.
How can I use a Holzkern coupon code?
An action code or promotional code from Holzkern Can be used in two ways. The first way is by simply clicking on "SHOW CODE", copy the code and paste it into the shopping cart of the webshop. The other way is by clicking on 'VIEW OFFER', you will then be redirected directly to the webshop and the discount will be applied automatically.
How do you find a couponcode at 1001promocodes.com? First of all, look for the desired store in the search bar at the top of this page. Are you looking for a particular product or brand? Then you can type it in the search bar. You can also find your desired webshop in our "SHOPS A-Z" or "CATEGORY" overviews. If you've come to our webshop page, choose a coupon code or offer you'd like to use.
FAQ
What are the promo codes and offers currently valid for Holzkern at August 2022?
Right now, there are 3 Coupons codes and 1 offers available for Holzkern:
Receive a 10% discount on zebra wood watches with this Holzkern discount code
Holzkern discount code for 20% discount on your order
Take advantage of a € 30 discount with this Holzkern discount code
Order Holzkern gift cards from € 20
How often does Holzkern release new coupon codes?
Lately we've discovered a new discount code from Holzkern every 30 days. Over the last 90 days we've found 3 new coupons from Holzkern.
How much can I save by using a coupon at Holzkern?
The best discount we've found is a code for 20% OFF. Holzkern shoppers save an average of 9 times at checkout.
How do I get the latest deals from Holzkern?
Subscribe to 1001promocodes.com's email alerts for Holzkern and we will send you an email notification every time we discover a new discount code. If you can't find a working coupon code right now, subscribe and receive the latest deals as soon as we discover them.
Are there any active coupons at Holzkern at this time?
Yes! Right now on 1001promocodes.com, you can find 3 coupons for Holzkern that are verified and working. Holzkern coupons and vouchers found on 1001promocodes.com have been used 9 times equalling lots of savings!
The entire content of this site is copyrighted (all rights reserved © 2022).